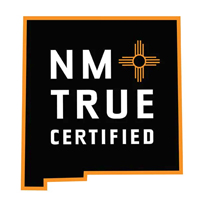 The New Mexico State Tourism Department launched the New Mexico True Certified program, an initiative that allows select New Mexico businesses to use the New Mexico True mark on their products. I am very pleased to announce that my business has been certified by the NM Tourism Department to bear this mark.
All my Silver and Earth jewelry is certified 100% handmade in New Mexico. I individually design and handcraft each piece with high quality materials and attention to detail. Not only are my products made in NM, but I also source and purchase the materials to create my jewelry from other New Mexico businesses to help support the local economy.
If you are planning a trip to New Mexico, I highly suggest you check out the New Mexico True website. The site is full of great information regarding attractions, lodging, dining, shopping, etc. to help you plan your trip. Be sure to watch some of the fabulous videos which highlight the gorgeous scenery and wonderful cultural heritage of this beautiful state.